If you're sick and tired of paying out oodles of your hard earned cash on marketing and advertising, content marketing could be your answer for taking back control of your budget and getting more bang for your buck. Creating your very own author content marketing system will deliver an abundance of high quality leads, give your brand massive exposure, establish you as a leading expert; all for a far less financial investment than traditional advertising.
But there is a downside to content marketing. It takes time to be effective. There is also time involved in creating the content as well as marketing the content. This is where most content marketers stumble. Many are sole entrepreneurs are a 'jack-of-all-trades' trying to run a business on a shoe string budget. Creating and administrating a content marketing system is just another chore.
And even if they do get a system in place there's no guarantee they will seen. Content marketers report their production is up 76% over last year with around 60% admitting they are creating a piece of content every day.
As an author the last thing you want to do is to create more writing tasks. And most authors hate the idea of marketing as well.
What To Do?
More and more authors are jumping onto the content marketing band wagon. Particularly indie or self publishers realise they have to create an inbound marketing system where leads come to them and not for them to be spending their meagre monthly Amazon cheques on Facebook or Google ads and getting poor results.
I have an author content marketing system that grows my brand, generates more readers (I got 3069 readers in just 7 days) and ultimately sells more of my books. The quality of the content is good and it runs on autopilot. Here's what it look s like.
Author Content Marketing System Structure
I recommend a plan. If you are a sole operator (most authors are initially) work out what the goal of each campaign is. Are you wanting to build your email list via a free book giveaway? Are you aiming to sell more books via a cross promotion with another author? Have a clear outcome in mind before you start.
Your marketing system is like a funnel. A big open top into which your leads enter having devoured your content. They sift through the neck of the funnel and hopefully either buy your book or join your email list.
What works best for me is a visual representation of how my system will be structured and organisation. A diary is good ( I'm still an old paper book guy) but for the most part my diary is closed on my desk. I like to see my tasks visually and I therefore prefer to outline my plan on a calendar. The calendar sits close to my desk and I'm constantly reminded of my daily tasks in keeping my author content marketing system moving forward.
What To Write
It's easy to come up with a few ideas on what you should be writing about. In my post fix a blog with no traffic I discussed how to use the Google Keyword Planner to get the best performing terms people are searching for in your space.
If you are fortunate to have a team around you you can brainstorm some ideas. If you don't why not form a group of authors in your town to meet up monthly and discuss ideas on how to best marketing your books.
But on of my favourite sites is BuzzSumo which allows you to enter a keyword or phrase or an author and see what content is performing well. You can replicate this idea but not duplicate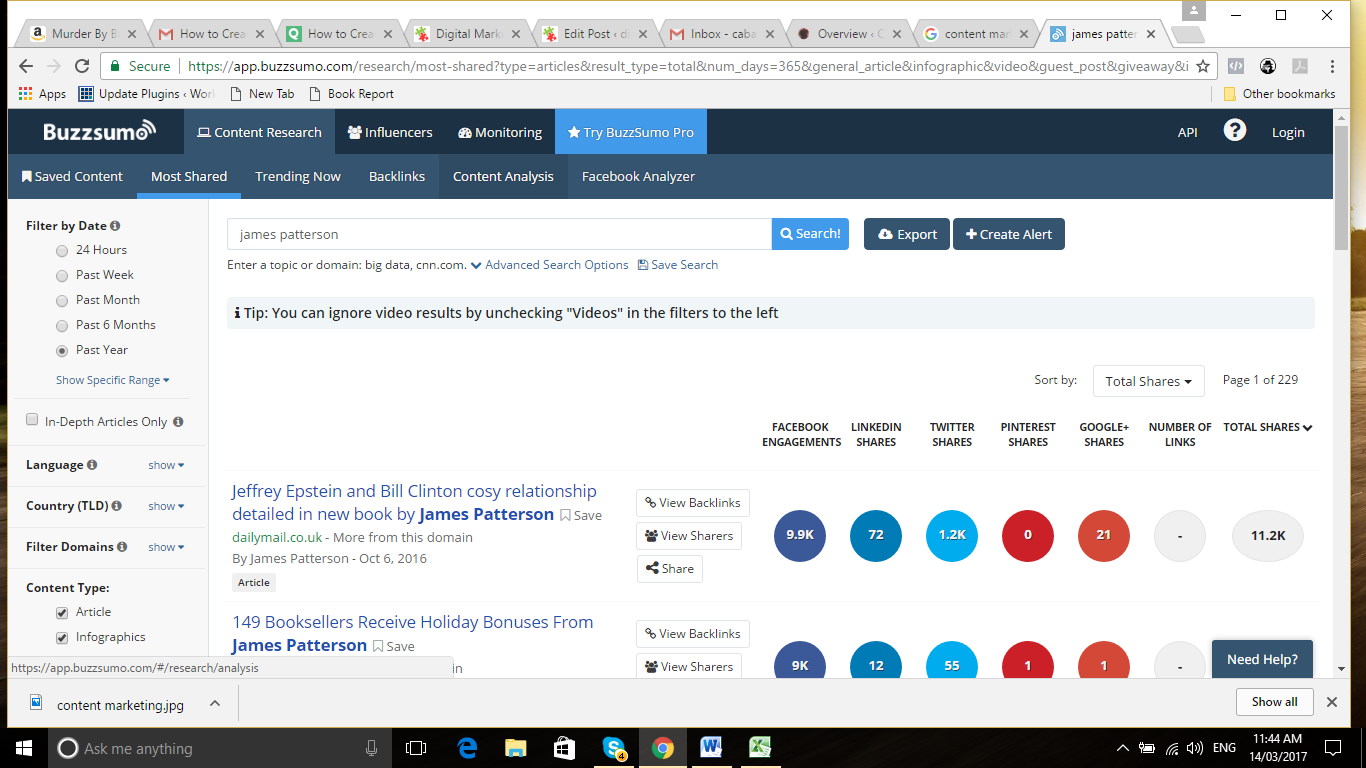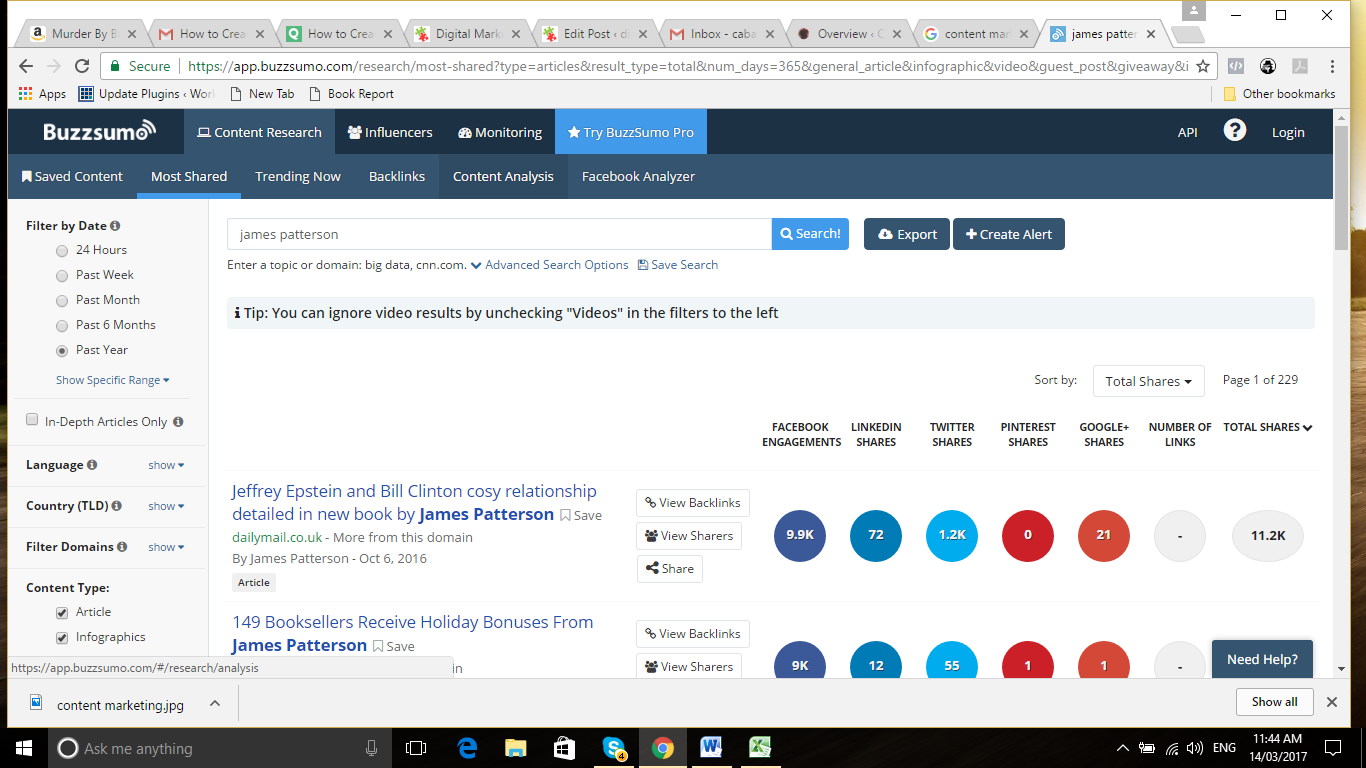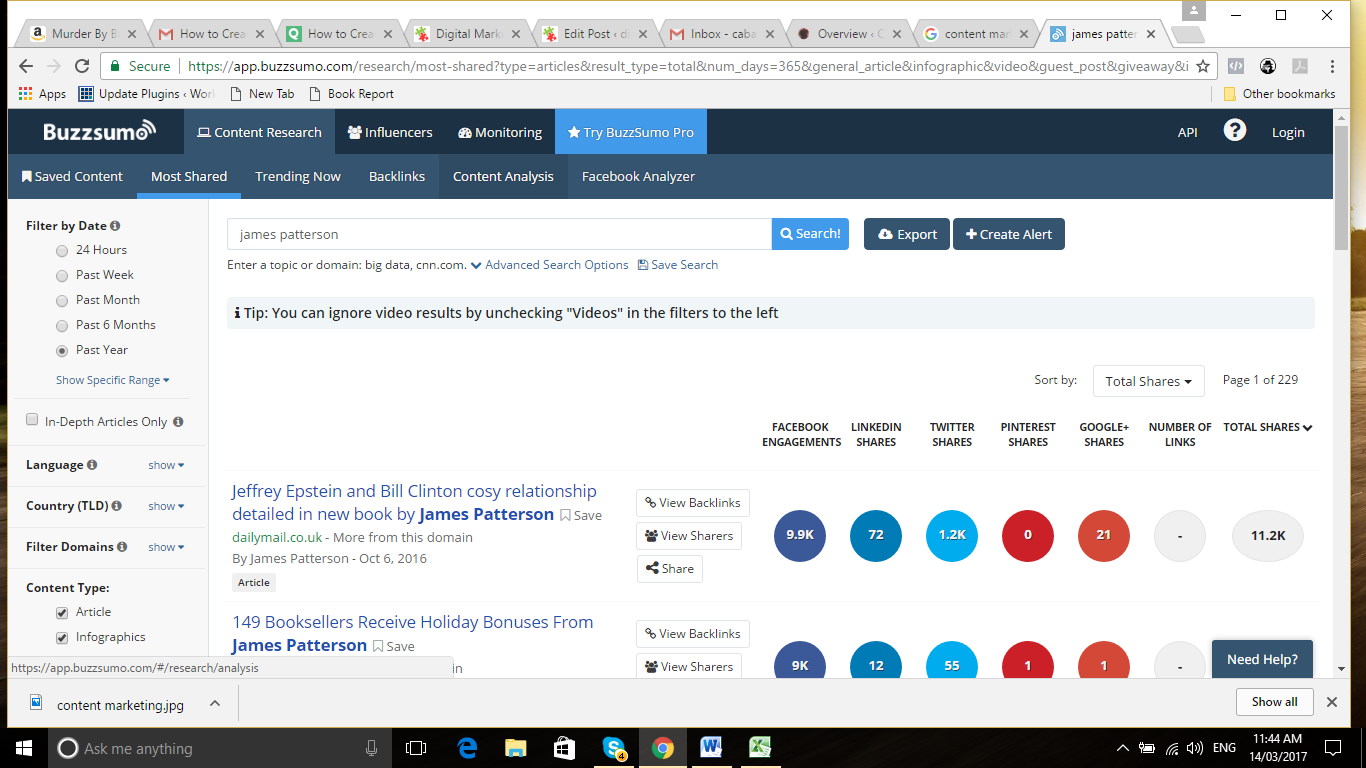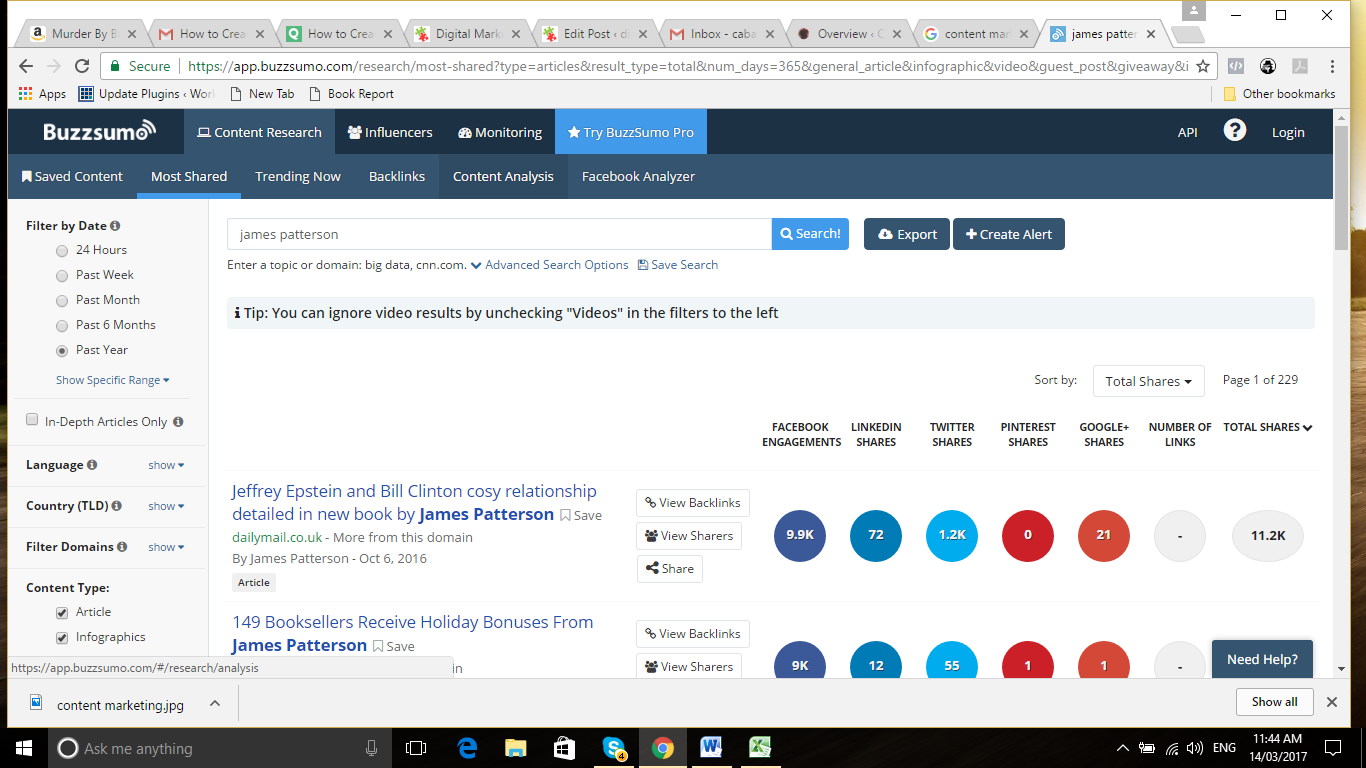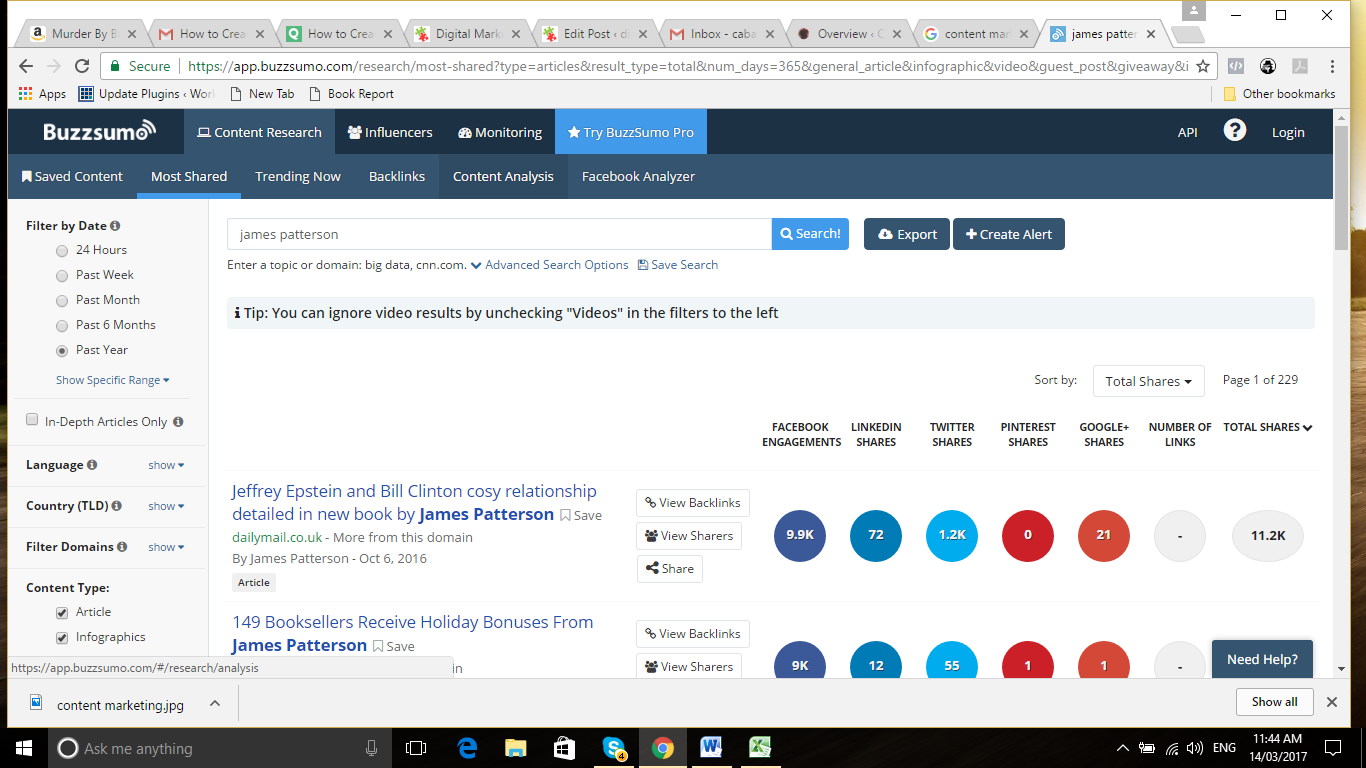 In the above picture you can see I've entered the term James Patterson and BuzzSumo has revealed each content piece's Facbook likes, Twitter shares etc. If a topic is popular, use the concept to create your own award winning piece.
Creating The Content
As an author you are used to writing. And while this is writing it's more about the style of writing that is needed. Good copy requires the correct usage of keywords and specially targets an audience with a definitive goal in mind. This is not about a masterpiece that could win you the Nobel prize.
If you are not comfortable about doing this yourself, you can hire a freelancer at Elance or Guru. Make sure however when hiring a freelance writer that they represent your voice to the letter. Your brand is at stake here.
Texbroker is a service I've used in the past and found their quality to be quite good. You pay for each word, the price is determined on the quality you expect. Higher the price the better the quality. A 500 word article will cost you around $8-10 for reasonably good quality. I run my eye over the final draft before I accept their work. This service allows you to get say 10 articles done quickly to post to your blog for around $100. Add it to your monthly promotional budget and you'll have 60 keyword rich, seo compliant articles on your blog in six months establishing you as the authority. Pretty cheap.
Content Compilation
If you don't want to write an article or outsource it but want a high quality, keyword rich piece of content that pulls readers in faster than a speeding bullet train, search Google for high performing information and videos on your topic and then simply compile all the data into one post.
It feels like you are cheating or plagiarising somebody else's work BUT as long as you credit your sources including pictures, it'll be ok. So if you were writing about the best romance writers in America and you found some great posts and videos, you can make your very own post and acknowledge your sources. Create a link so your readers can check out the other content as well.
Automating Your Posts
You've written your masterpiece or compiled a great post from existing content, now it's time to share it with the world. Most blogs have share buttons on each post for both authors and readers to share their content. But if you want to stagger the release of content for different time zones or even days, you'll need to use a scheduler.
My favourite is Post Planner. I schedule all my posts to my social media sites via this programme. They even give me thousands of the best performing posts for me to share with my followers as well. And I do this automated task in just 15 minutes a week, allowing me to connect with my platforms 28 times a week for just $9/mth.
And that's how I create and market my author content marketing system on autopilot. Leave me a comment below and let me know what you think